---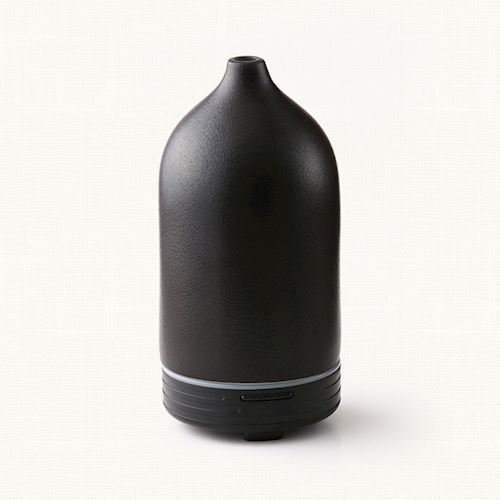 Ceramic Diffuser - Black
Price: $ 89.00
Enhance your home and wellbeing with the natural aromas of nature by adding Lucia essential oil blends to this beautiful ultrasonic ceramic diffuser.
Benefits:
Diffuse essential oil blends gently into the air, maintining the integrity and therapeutic benefits of the oils
Unlike candles, air freshers and reeds, oil diffusers release cleansing molecules into your air which help purify it.
Supports wellbeing
Ambience, relaxation, stress, concentration, mood and sleep can be enhanced with aromatherapy
Helps reduce airborne allergens and dust from sources such as dust mites and pet dander
How to Use:
1. Connect power adaptor to the power outlet at the bottom of the unit.
2. Remove the ceramic cover from the base
3. Remove the concical shaped plstic cover from the top of the water tank
4. Fill water tank with room temperature tap water to the fill line
5. Add 5-10 drops of your favourite Lucia diffuser blend to the water. Replace the conical shaped lid to the top of the water tank
6. Plug power adaptorinto electrical outlet.
7. Turn the on/off button on (right hand button). Press once - continuous for 3 hrs, Press twice - mist intervals for 6hrs.
8. Will automatically turn off when the tank is empty. Can turn off manually by pushing on/off button - 3rd push.
9. LED light on/off left hand button.
---
Key Elements:
Ultrasonic disperses very fine molecules of water and essential oil through vibration, not heat
Elegant Brown or White ceramic design
Timer Setting of 3hrs or 6 hrs
Automatic Switch-off function, when runs out of water
Light setting for mood enhancement
Very Quiet.
Care and Maintenance:
Do not overfill the water tank
Remove any liquid from the tank after each use
Remember to place the funnel back onto the water tank after filling. If you forget to do this the 'water' will bubble out of the unit
Unplug the diffuser from the wall before filling or cleaning.
The tank can be wiped out with a soft clean cloth, how often will depend on the usage and diffuser blends used
There is a small ceramic disk at the bottom of the water tank. This should be kept clean with a soft clean cloth. Never use a sharp object to clean the ceramic disk as this will damage the disk permanently.
For best reults clean the tank before changing diffuser blends.
Only use the power adaptor suppled with the diffuser and don't use if power adaptor damaged.
Warranty:
Your Lucia Ceramic Diffuser is covered by a 1 year warranty from your date of purchase against defects pr workmanship. This warranty does not cover any damage caused by accident, misuse or damage resulting from failure to care and maintain this divice as specified in the instructions above.